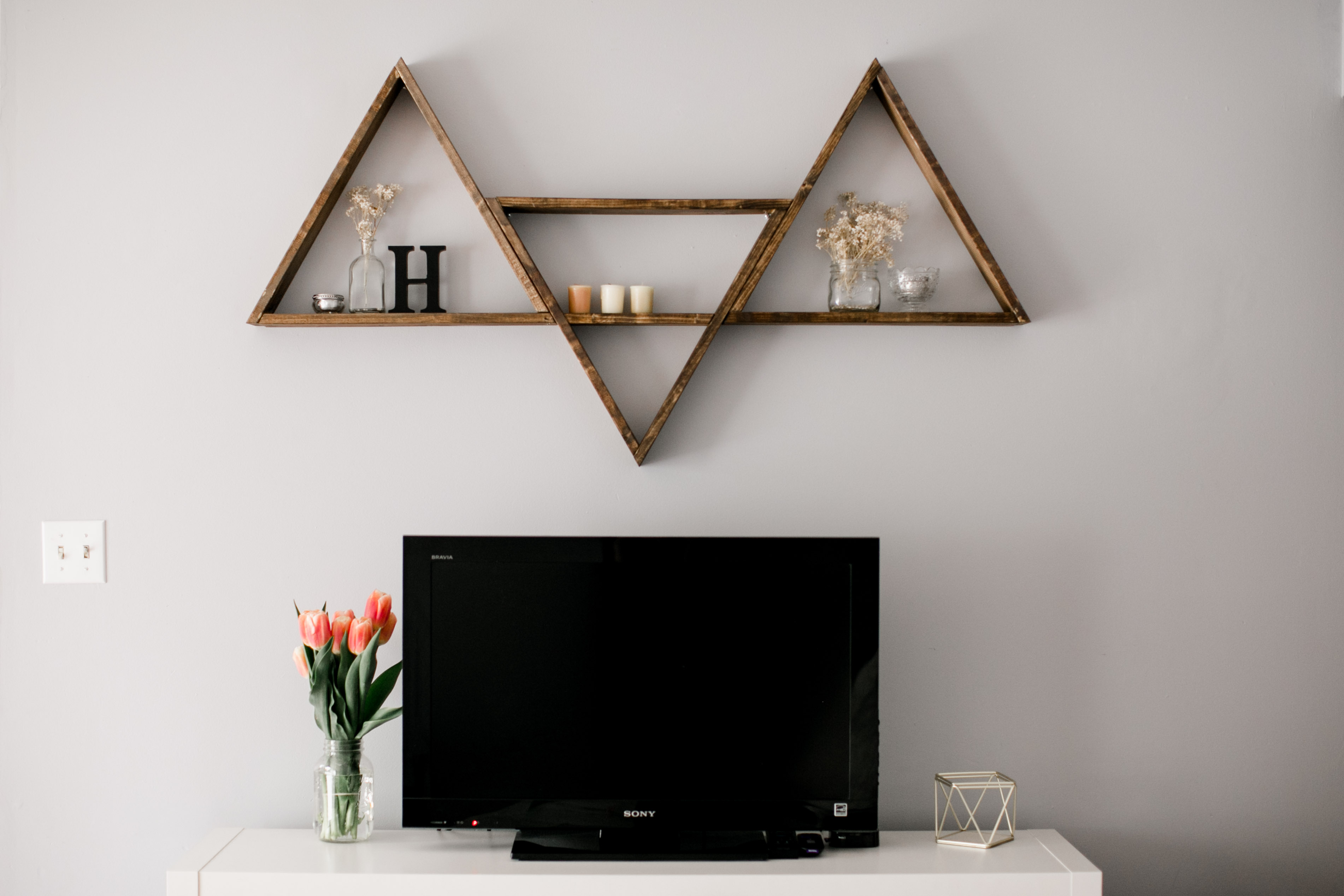 I am finally starting up a few new topics on my blog. This is my first post in my DIY section.
A few days ago, I posted on Instagram my new triangle shelves! I am also in the process of completing 5 gorgeous octagon shelves that follow pretty much the same steps, just different measurements when cutting the wood. This post is going to cover your basics but to get hard, fast numbers and a more detailed tutorial check this tutorial out.
As for this post, I am going to walk you through the simple, short answer as to how to make these shelves and then a few issues I encountered. So here we go!
Materials you will need:
Wood Pine Planks

Miter Saw

Wood Glue + Clamps

Nails + Hammer or Nail Gun

Wood Stain

Pencil for marking

Ruler/tape measure for measuring
1. Wood Pine Planks
I bought 4 inches wide by 1-inch thick pine wood planks that were 8 feet tall from Home Depot. I got one of the workers to cut them in half length-wise so I could actually fit them in my car. It cost me no more than $40. Be sure to really analyze your wood since distorted planks and knots will possibly cause issues in the process.
2. Miter Saw
Well, I don't own a saw. I wanted to buy one, but there was no way my husband would let me buy one if I could have bought shelves like these for the same price. But thankfully I have some friends/family who do own one. So my dad actually took care of all of the measurements and cutting since he knows his stuff. I wanted them to be approx. 15 inches across so I communicated that with him.
3. Wood Glue + Clamps
Once my dad had made all the cuts, I used wood glue on each of the edges. Because I was working alone, I also decided to nail them so that the glue would dry without me having to hold them for hours on end. If you own clamps that would work too to let the glue dry and would for sure make the nailing process easier. Or if you just have a helping hand willing to hold them in place while you nail.
4. Nails + Hammer
I also don't own a nail gun so I got out my handy old nails and hammer. I nailed three medium size nails into each connecting piece and it was pretty easy peasy. Again, I recommend doing it with a friend or waiting till the glue dries the pieces together before you nail them because that would be easier. Now the center triangle has an extra wood piece in the center, that I just lined up all of the side to make it look like one large shelf when instead it is three separate triangles.
5. Wood Stain
Staining was my last and final task. I had known ahead of time what colour I was going for, however, you can go to Home Depot and check out some testers. We went with Provincial stain color (lighter than the walnut) and I loved it! Staining is all pretty straight forward and all of the directions are right on the container. We bought ours from Home Depot but you can also buy it cheaper at Walmart.
The one step you can do before staining is sanding. I didn't because I liked the more distressed, patchy stain look. But if you sand the shelves ahead of time you'll for sure have a more consistent look in your stain as you put it on!
Again, this DIY is more of an overall "how-to" rather than the details. Basically, it is fairly easy to make them if you have the tools and numbers to do so. My part of this job was easy, it was the cutting that was more challenging. Also, the triangle shelves were much easier than the octagons!