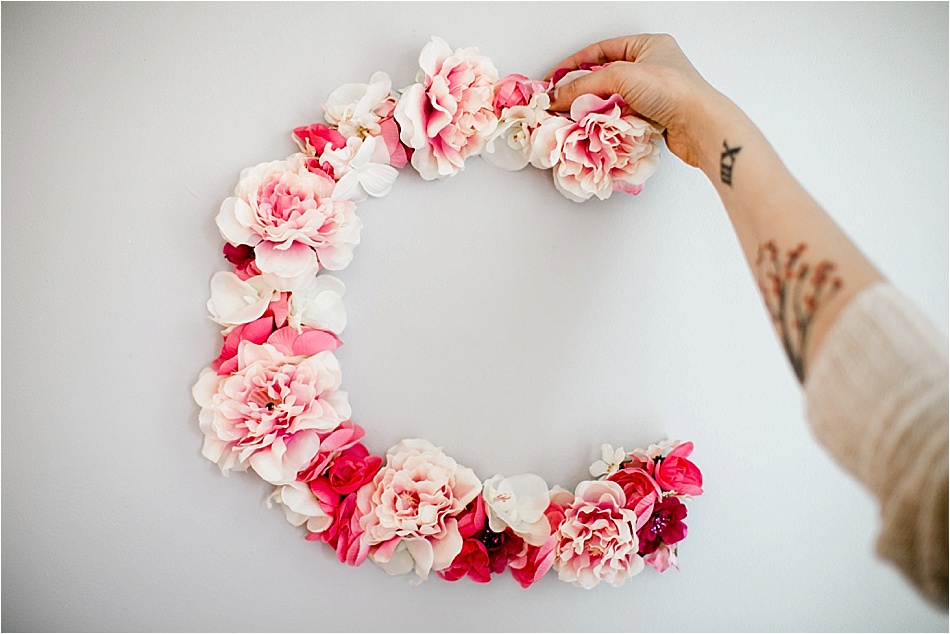 I had come across some of these gorgeous floral monograms and couldn't resist the idea of making one for my sweet little niece, Charlotte.
I actually needed a night out and invited C's mama to come along with me to pick up supplies. My first stop was Michaels, which I am sure we all know the fake flowers are super overpriced but they have a fantastic selection! So we went bargain hunting and found a 60% off section. I had a few flower arrangements at home as well so I just picked out a few of Brit's favourite pinks she felt would match C's room the best and all of it came to less than $14.
So the supplies I needed were the following:
Cardboard box

Hot glue gun and glue

Fake flowers

Pencil

Scissors
Trace out your letter on the cardboard. I actually just freehanded a C. I used a pencil and just eyed the whole thing. I am not a complete zoo when it comes to drawing so I felt pretty confident doing it but other options you could do is printing out a larger C from the computer using Word or finding stencils somewhere like Staples or Michaels. Don't worry about erasing your pencil marks you won't see them after you glue the flowers on. Make sure the letter is not too thin. Make it nice and thick, I found it looks the best in the end.

Cut out letter.

Pop off the ends of the flowers. I initially cut the flowers off then found you can pretty easily just pop them off the stems.

Eye where you would like the flowers to go. I had a few really large flowers so I wanted to make sure I did some smaller ones between the larger one's and then I used itty bitty flowers to fill the smaller holes.

Glue on flowers. Make sure to overlap a lot of flowers. I found at first is looked pretty chintzy and after filling more gaps and overlapping a lot of the flowers the whole thing looked a lot fuller!

After I had finished it, I went back to the whole thing and made sure all the little gaps were filled with smaller flowers to give it a full look.
Easy peasy. Hope you enjoyed!